Bark for Life: Canines against cancer
Hang on for a minute...we're trying to find some more stories you might like.
Cancer. It's the second-highest cause of death in America, and something that has changed the lives of many people beyond our country. Imagine a movement full of those who have been affected by the disease coming together to embrace triumphs and tragedies alike against a disease that has irreversibly impacted millions of lives. But here's the catch: not all of these lives are human.
Bark for Life is an upcoming event ran collaboratively by Northwestern University (including some Niles North alumni) and Relay for Life, a community-based fundraising event created by the American Cancer Society that has worked with Niles North in the past. The event is based around the idea of fighting cancer, and it has clearly had a powerful influence; it hosts over 5,000 events in 20 countries each year, and has raised an estimated total of five billion dollars from its events.
[perfectpullquote align="right" cite="" link="" color="" class="" size=""]
"No matter who you are, there's a place for you at Bark For Life," their website said.
[/perfectpullquote]
BFL's purpose is to raise funds and awareness for the ACS in its efforts to battle the disease, and splits its main purpose into three categories: celebrating victories, remembering losses, and kindling the courage to fight back. "By supporting Bark For Life, you help the American Cancer Society save lives, and that helps us move closer to our ultimate goal of a world with less cancer and more birthdays," the official page said.
"Over the past few years in Relay For Life, we have tossed around this idea of bringing dogs to our event," Gary Chu, teacher and event organizer, said. "We really wanted to share this experience of fighting cancer with our four-legged family members. So when our [ACS] staff partner, Karina Ogawa, approached us and said there was a dog-friendly version of Relay, we got super excited and wanted to bring this to our school and community."
BFL will be what Chu calls a "condensed version" of a traditional Relay for Life event. It will consist of an opening ceremony celebrating cancer success stories, a noncompetitive mile walk in honor of loved ones, and an honor/recognition ceremony to commemorate those who have lost their battle. The event will also plan to include dog-friendly activities such as a costume contest, a photobooth, and demonstrations.
"Community members should come out for any reason that speaks to them," Chu said. "If they have been impacted by cancer at any point in their lives, it's a great event to come to. If they would like to learn about the disease, treatments, and/or the mission of ACS, this is a great event to come to. If they love dogs and want to hang out with them, this is a great event to come to."
BFL will take place on Saturday, Oct. 8 from 9 a.m. to 12 p.m. in Pooch Park, located near the Skokie Northshore Sculpture Park. The base cost of participation (which means no dogs) is $30. However, District 219 students can get in for only $10 if they present their student ID. A single dog adds an additional $10, and each dog after that adds $5. All participants will receive a BFL T-shirt and a bag full of dog goodies as well. All money raised for the event will go straight to the ACS.
For more information on Bark for Life, visit the event's website.
Featured image source: http://www.ipc-us.com/2014/05/16/IPC+Sponsors+the+2014+American+Cancer+Society+Bark+for+Life
About the Writer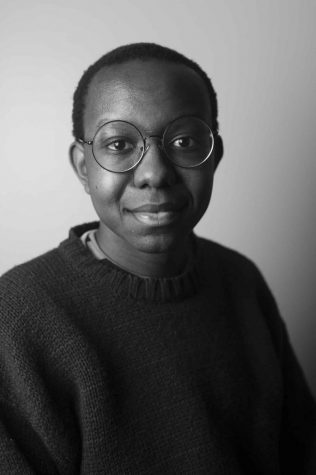 Sam Mwakasisi, Editor-in-Chief
Sam Mwakasisi is the Editor-in-Chief of North Star News. He is a senior, and this is his third year with North Star. He is involved in Film Club, Mental...