Abbey Road to Ziggy Stardust: The mandatory list of rock albums

From Bowie to the Beatles, rock albums have given listeners a gateway into the minds of the world's greatest rock 'n rollers. The Doors and Pink Floyd gave us a psychedelic and poetic experience while the arts of Led Zeppelin and Jimi Hendrix brought endless guitar solos and pounding drums. Before you leave high school, here are the best albums to listen to either raise the roof or melo down before you go to bed.
Artist: The Jimi Hendrix Experience
Album: Electric Ladyland
Year: 1968
Best song: Voodoo Child (Slight Return)
Best line: ""There must be some kind of way out of here, " said the joker to the thief, "there's too much confusion, I can't get no relief. Businessmen, they drink my wine. Plowmen dig my earth. None will level on the line, nobody of it is worth."
With such classics as "All Along The Watchtower" and "Voodoo Chile", this is by far the band's best stand alone album. Unlike most of the other albums, I don't find it necessary to listen to this one in the original song order. In the same way, this album is pretty good on digital as well as vinyl. Play it either way, as long as you get the chance to listen to this piece of art.
Artist: Pink Floyd
Album: The Wall
Year: 1979
Best song: Comfortably Numb
Best line: "We don't need no education. We don't need no thought control. NO dark sarcasm in the classroom. Teacher, leave them kids alone."
Famous for the protest song "Another Brick In The Wall (Part 2)", this album follows the chahcter "Floyd Pinkerton" and his rockstar life. IN the film verison of this movie, Pink is played by Bob Geldof, and the album alone gets an even stronger message. Listen to the album first, vinyl or digital, watch the film, and then listen to the album again. This, in my opinion, is the only way to get the full message from both. It's a good listen for anyone going through hard times.
Artist: The Beatles
Album: The Beatles ( The White Album )
Year: 1968
Best song: Back In The U.S.S.R.
Best line: "You know I can't sleep, I can't stop my brain. You know it's three weeks, I'm going insane. You know I'd give you everything I've got for a little peace of mind."
This is one of the albums that, by far, sounds the best on vinyl. This is due to the seamless flow that the songs have and if there is a pause between the songs it just sounds wrong. It's a classic album, and it's meant to be listened to on two LPs to get the deep tone of Paul McCartney's bass and the vocals of the rest of the Beatles.
Artist: The Doors
Album: The Doors
Year: 1967
Best song: Light My Fire
Best line: "This is the end, beautiful friend. This is the end, my only friend, the end"
Like The White Album, I recommend listening to this on a beat up copy that you could probley find in your parent's basement. The smooth and cruel voice of JIm Morrison and the keyboard skills of Ray Manzarek sound bests when there is a light crackle in the background. Though it's best to listen to it on vinyl, if you do play it digitally, the song order doesn't really rather, as long as you play "The End" last.
Artist: Frank Zappa And The Mothers Of Inventions
Album: Freak Out!
Year: 1966
Best song: Trouble Every Day
Best line: "Well I'm about to get sick from watchin' my TV. Been checkin' out the news until my eyeballs fail to see. I mean to say that every day is just another rotten mess and when it's gonna change, my friend, is anybody's guess."
Anyway you listen to this album, it's still as amazing as the other. Zappa's vocals, and signature guitar playing, really bring this album together. While some of the songs might seem strange, like "Help, I'm A Rock!", the group of good songs makes you completely forget about the mediocre ones.
Artist: Bob Dylan
Album: Highway 61 Revisited
Year: 1965
Best song: Like a Rolling Stone
Best line: "I wish I could write you a melody so plain. That could hold you, dear lady, from going insane. That could ease you and cool you and cease the pain of your useless and pointless knowledge"
Folk and rock star, Bob Dylan, is known very much for this deep lyrics and nasally voice. This album has plenty of both, plus some groovy harmonica solos. Any track on this album is okay to listen to alone, and greatly pair with any other Dylan album, so there is no need to listen to the album in order. JUst make sure to listen to all the tracks at some point, because not a single one is worth missing.
Artist: Led Zeppelin
Album: Led Zeppelin II
Year: 1969
Best song: Living Loving Maid (She's Just a Women)
Best line: "Some people cry and some people die by the wicked ways of love. I'll just keep on
rollin' along with the grace of the lord above."
With Jimmy Page on guitar, John Bonham on drums, John Paul Jones on bass, and the legendary Robert Plant singing his heart out, there isn't much more you could ask for. It's bests played on vinyl because of Plant's rustic voice and Page's solos. Give this a listen to know why Led Zeppelin has been called the best rock 'n roll band in history.
Artist: David Bowie
Album: The Rise and Fall Of Ziggy Stardust and The Spiders From Mars
Year: 1972
Best song: Suffragette City
Best line: "You're too old to lose it, too young to choose it. And the clocks waits so patiently on your song. You walk past a cafe but you don't eat when you've lived too long."
Following Bowie's Hunky Dory, he came out with a much more rock 'n roll based album. It's one of his best for new fans to listen to and get into his wide range of music. While this album is best played on a record, don't go out of your way to try and find it. His albums have naturally been hard to find as of late, and the prices have skyrocketed. Download it on itunes and get your share of the late-legend.
Artist: The Who
Album: Quadrophenia
Year: 1973
Best song: The Real Me
Best line: "And when a man is trying to change it only causes further pain. You realize that all along something in us is going wrong. You stop dancing."
Quadrophenia was technically The Who's third, and final, rock opera. It follows the story of Jimmy, who is "quadrophenic", meaning he has four personalities. Each personality mimics the behaviors of each of the band members. Filled with teenage angst and hard rocking songs, this is an album definitely best listened to on vinyl, followed by chants of "We are the mods! We are the mods! We are, we are, we are the mods!"
Artist: Peter Frampton
Album: Frampton Comes Alive!
Year: 1976
Best song: Show Me The Way
Best line: "All of my life, I've been dreaming, til you came my way. All of your life, aren't you searchin' for love forever?"
By far the best live album ever recorded, this album has the famous recordings of many of Frampton's best songs. The live versions of these songs have even become more popular than the original tracks. Good on any format, this is a must listen because of Frampton breaking out his famous gibson guitar and the voice box.
About the Writer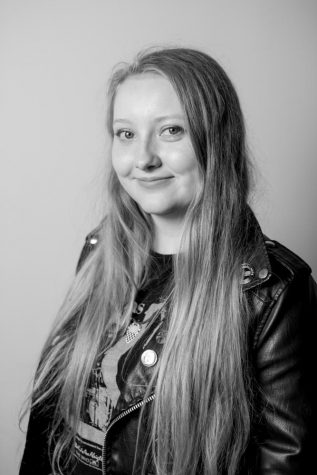 Katelin Aanerud, Editor in Chief
Kate is a senior and this is her fourth year on Northstar News. She is this year's Editor in Chief, and Feature Editor. She is involved in Viking Strings...