Macbeth movies in halloween's moonlight
Hang on for a minute...we're trying to find some more stories you might like.
Halloween has crept up on everyone as fast as a Sam Raimi shot, and with many people not having any plans for tonight, why not add a bit of spook with some classics. Snuggle close with a blanket, a friend or a pet, and a warm drink as you're scared out of your pants by these vintage flicks.
The Exorcist:
Seen as one of the scariest movies of all time, this 1978 classic is sure to add a cool chill to your night. Following a strict christian family through the possession of their youngest daughter, Regan, this movie stirred the media at the time of it's release. Heads will spin at this horror movie icon.
Psycho:
Filled to the brim with famous quotes and spooky shots, this is one movie that is a must see. Anthony Perkins takes the role of Norman Bates to a new level, and that shower scene has scarred generations upon generations of viewers. This movie is only another reason why you should never stay at a creepy motel.
"I think Psycho is probably one of my all time favorite halloween movies. You really can't go wrong Hitchcock, to be honest. Also, it makes you have to take time to think." Emily Cohen, sophomore, said.
"It's crazy! And, I thought (Perkins) was good, and kinda cute at the beginning! For a movie made so long ago, it's really creepy." Yukta Parikh, sophomore, said.
Night Of The Living Dead:
The first of a long line of movies, Night Of The Living Dead scares viewers right from the get go and leaves them with a shocking turn of events. Being one of the first ever zombie movies to come out, director George A. Romero definitely knocked this one out of the park. It's perfect for any halloween party, because though not many people have seen it, the creep factor still stays strong years later.
Evil Dead:
What could ever go wrong when a group of college students decided to spend their spring break in an abandoned cabin in the middle of the woods? It's the perfect set up for any horror movie, and though it was concerned low budget at the time, Sam Raimi and Bruce Campbell were able to horrify audiences with white contact lenses and gallons upon gallons of blood.
Would You Rather?:
Though the newest out of my choices, this movie is put up their with the great ones despite being greatly underrated. The title says it all really. Horror movie legend Jeffrey Combs plays Shepard Lambrick, a corrupt businessman who takes pleasure in watching the suffering of others, and plans out a dinner party for guests to play a twisted game of "would you rather?" where the guest must act on their decisions with gruesome consequences.
Whether looking for movie to watch with friends, or by yourself, these movies are guaranteed to give you the chills and may cause you to sleep with the lights on tonight. Happy halloween!
About the Writer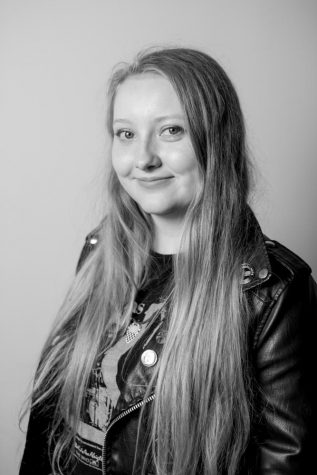 Katelin Aanerud, Editor in Chief
Kate is a senior and this is her fourth year on Northstar News. She is this year's Editor in Chief, and Feature Editor. She is involved in Viking Strings...