Fall into reading: Skokie Public Library events
Hang on for a minute...we're trying to find some more stories you might like.
The Skokie Public Library is not only known for their extensive collection of materials for all ages, but also its wonderful programs and this fall they aren't short of club meetings, movies, and activities. From a Star Wars extravaganza to technology classes, there is something for every interest and all you need is a library card to register for the upcoming months.
Registration is now open for fantastic fall events for teens and families! This long and varied list of events includes a high school exclusive showing of "Insurgent" at 6:30 p.m. on Sep. 11 while "Home" is being played for young audiences starting at 7 p.m. in the Petty Auditorium.  On the following Monday will be a forensic science class and there's a knitting club meeting on Sep. 15 at 5 p.m. Get your creative juices flowing at WRITE Stuff Club on Sep. 23 for teens and kids.
Skipping your way into October, on the first there will be a Anime Club meeting for lovers of manga. Members will watch videos of the genre and Japanese inspired snacks will be served. On Oct. 16, there will a halloween nail art class where you can learn how to do awesome designs yourself and avoid the prices of fancy manicure places.
With "Star Wars: The Force Awakens" coming to theaters this December, the library will be throwing a huge Star Wars extravaganza on Oct. 3 for all ages, which will include an assortment of games and trivia.
"One of the upcoming events that I'm really excited about is our Star Wars Extravaganza. Every year for the past couple of years we've had a Star Wars event in the fall and we're going to have one again this year for all ages," said Amy Koester, the SPL's Youth and Families activities director.
The festivities start at noon and go till 4 p.m., with a hour and a half history class on the film series which starts at 1 p.m.
The following day they will have a practice ACT test for all high school students. On the day before halloween prepare to get your gore on at the zombie makeup class on the Oct. 30 where instructors will supply all makeup for you to become one of the undead.
Koester even gave us a little sneak peak of what is to come in December for the holiday season. "We're going to have an interactive live showing of The Polar Express with people acting it out while we show it. It's going to be a lot of fun. Lots of cool stuff happening at the Skokie Public Library coming up."
If you have a library card, make sure to sign up for events either at the SPL or on their convenient website.
About the Writer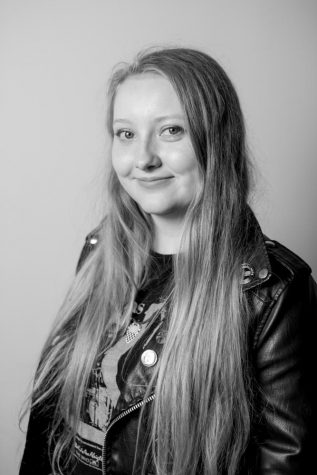 Katelin Aanerud, Editor in Chief
Kate is a senior and this is her fourth year on Northstar News. She is this year's Editor in Chief, and Feature Editor. She is involved in Viking Strings...