Vikings trounce Ramblers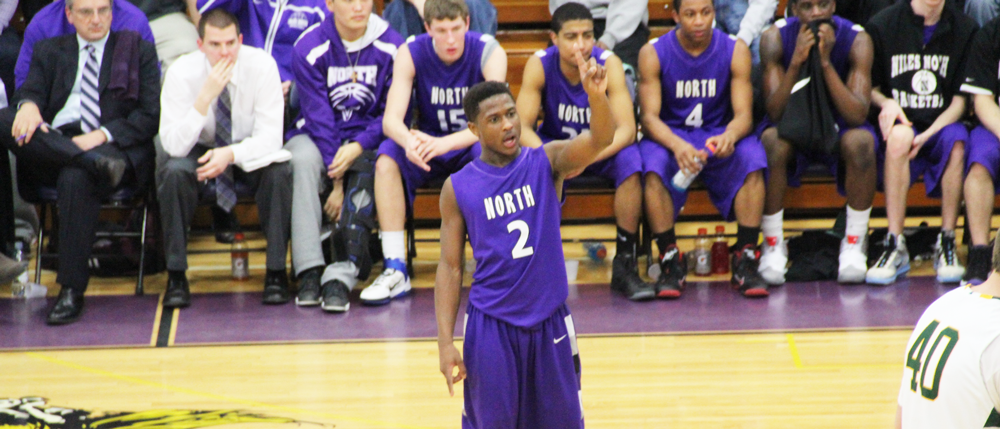 Editor's Note: The Vikings scored a narrow 57-56 victory over Glenbrook North on Friday, March 2.  Lorenzo Dillard scored 21 points  in the game, including the game-winning free throw at the game's nail-biting conclusion. Full story to come.
The Niles North boys basketball team now heads to Glenbrook South HS (Wednesday, March 7, at 7:30 p.m.) to play the Maine South Hawks in the IHSA Boys Basketball Sectional Semi-Final.  Pre-sale tickets will be available for purchase at Niles North starting Monday (March 5) from 10 a.m. – 4 p.m.  When school resumes on Tuesday and Wednesday (March 6 – 7), tickets will be available for purchase from 8 a.m. -3 p.m.
  All pre-sale tickets can be purchased in the Athletic Office.  Cost is $5
The following story recounts the Viking victory against Loyola:
On Wednesday, Feb. 29, the Niles North boys basketball team played Loyola Academy in the first game of what is expected to be another deep playoff run. The experience of last year's success was on full display as the seventh-seed Vikings, carried by 14 points from B.J. Beckford, came back from first-half struggles to handily defeat the tenth-seed Ramblers by a score of 58-45.
The star of the game was junior guard Beckford, whose 14 points included four three-pointers in the third quarter. His second-half scoring splurge helped push Niles North past an uncharacteristically slow start that allowed Loyola to stay in the game. With Beckford's fourth three-pointer, the Vikings capped off a 10-0 run that gave them a 40-31 lead from which they never looked back. From there, junior guards Malachi Nix and Lorenzo Dillard helped seal the deal with 15 points and 12 points respectively. Junior center Billy Voitik added 10 points, while senior forward Mychael Henley scored 12 points before being injured in the fourth quarter.
The Vikings play second-seed Glenbrook North on Friday, March 2, at 7:30 p.m. at Niles North for the regional championship. The game, which will be broadcast on Comcast cable TV, is expected to be a sellout. Doors open at 6:00 p.m. The first 75 Niles North students will get free admission.
"Friday night's Regional Basketball Championship game could arguably be one of the biggest home athletic events in the history of our school, says athletic director Karl Costello.